The DeJacques
Saxophone Ultra Strap

Precision Finger Tip Adjustment
Non-Slip Cord Slide
Fast Adjustment
Simple Release System

This new ULTRA STRAP employs patented design principles that simplifies its attachment and removal from the instrument. A quick push of the ring lock onto the instrument ring opens and locks the jaws onto the instrument so that it can not accidently fall off, because the jaws of the ring lock are held closed by a tension spring. To release if from your instrument, the ring lock plunger is pushed against the ring of the instrument, opening the jaws which allows it to be removed quickly.

The ease of adjustment is equally fast and simple. Even with the cord under tension the instrument can be easily raised by pulling up on the cord slide. After the proper length is determined, it is held firm from slipping, even when the tension is removed.
Available for Alto and Tenor Saxophone, in black or white colours
and Baritone Saxophone in Black
Price including VAT GBP 75.00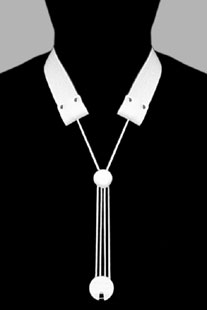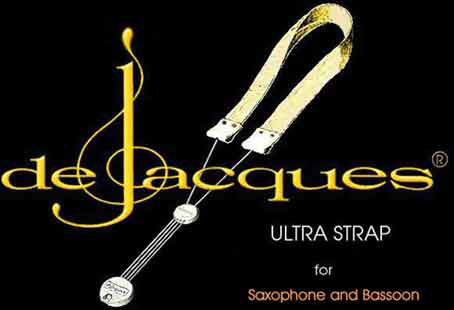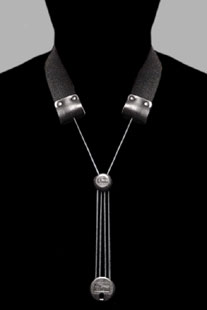 Simplicity ~ Control ~ Durability
The Nitty Gritty.......
The DeJacques strap is designed and fine tuned to produce a ligth, flexible link between musician and instrument, providing greater freedom, ease and control of your instrument

The mechanical parts are precision molderd in engineering grade acetal resin with added components for strength and exact interior dimensions. The jaws are tumbled to eliminate sharp edges and friction. The parts are sonic welded. The Jaws have been stress tested to 120 pounds of tensile strength. The cord test to 250 pounds. The neckband is 100% cotton with leather ends. The entire strap weighs less than two ounces.
To Order e-mail us

We accept all major credit cards



---
Back to Home Page
---
This document maintained by Sales@bill-lewington.com
Material Copyright © 2013 Bill Lewington Ltd. Unit 8 Hornsby Square, Southfields Business Park, Laindon, Essex, SS15 6SD, United Kingdom