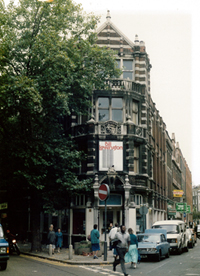 Bill started his musical life as a drummer and moved onto the Clarinet because he got fed up of transporting his drums on the bus. From Clarinet he moved onto Saxophone and within a short time had made a very good name for himself playing with the top artists and bands of the decade, including Ambrose And His Orchestra, Oscar Rabin and his band along with many West End Theatres.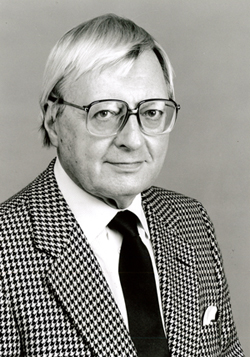 It was as a result of injury to his thumb, not being able to play for a period of time, Bill moved into musical instrument retailing specialising in Brass and Woodwind, securing premises in Macclesfield Street on the 1st floor, still remembered by many to this day, with a barber downstairs and massage parlour upstairs. Joined by his brother Denis, this soon extended to include a repair workshop. Instruments in the early days were hard to come by and Bill would visit Fleet Street to get copies of the Music Exchange and Mart the night before they hit the street to hunt out instruments he could purchase. It was also not unusual for Bill to ask musicians working the cruise ships to bring back instruments they had purchased in New York for him. The shop later moved to 164 Shaftesbury Avenue, with the office of writer and composer Lionel Bart upstairs and then along to 144 Shaftesbury Avenue, overlooking the Palace Theatre at Cambridge Circus, but this time with a warehouse in Covent Garden. Being in the heart of Theatreland and so close to the famous Ronnie Scott club, the shop would have the cream of international musicians coming through its doors. Ronnie would have his repairs done here and such legends as Roland Kirk, Sonny Rollins, Michael Brecker, Sal Nistico would all have various adjustments and repairs done whilst playing at the club and of course top London players, Ronnie Ross, Tony Coe, Pete King, Alan Skidmore etc, were regular customers. As the business expanded Bill moved into Distribution for Noblet and Leblanc Clarinets, building up a very close friendship with Leon Leblanc. Then Yamaha Japan came knocking and Bill became the distributor for Yamaha Brass and Woodwind Instruments. Bill loved music and supported many musicians over the years from Music for Youth to sponsorship of a Brass Band.

In May 1998 Bill passed away and Denis decided it was time to retire. This led to the closing of the by now famous London shop but Bill's wife, Anne carried on the company, concentrating on Distribution and repairs, moving the company to its current location in Essex. Today the company is run by a small and dedicated team of Musicians with many years of service with the company, dedicated to keeping Bill's company and love for Music alive. Still specialising in Brass and Woodwind but over the years we have added other products like Guitars, Ukuleles and Drums.