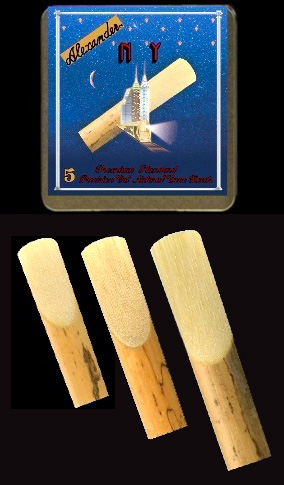 After the introduction of Superial, "DC", and Classique in the 1990's, we began to conceive of a model which would add a new and different dimension to the tonal universe of our reeds.

This reed was born following extensive conversations and correspondence between Tom Alexander and the legendary late, great Jazz saxophone genius Michael Brecker beginning some years ago. Without Michael's gracious and invaluable feedback following experimentation with different prototype designs, this new reed simply would not have come into existence.


NY was also thoroughly field tested by subjecting it to many months of on the job playing in the concert and tour performances of several of our World Artists who gave it their seal of approval and use it as their primary reed today.

The result is a new reed made with our same high grade S. France cane, yet a redesigned tip and profile which produces a big and bold sound, full response throughout the registers and the type of vibrant, solid tone traditionally associated with that of the New York music scene. The tip is somewhat harder than DC which gives it a sustaining power, especiially in the high end of the horn. Some players prefer NY a half step softer than DC or Superial (i.e. DC 3-NY 2 1/2), others like the extra hardness as it is." Actually, NY isn't a whole half step softer than Superial but more like from a 1/4-1/2 step harder as some players feel it.
Alexander Superial NY Reeds
Alexander World Artists on NY
Joe Lovano: "Just like New York City, the Alexander NY cut reeds are a cut above and give me the flexibility I need to be as expressive as possible in all ranges of my horn and musical settings."

Branford Marsalis: "The Alexander NY gives me the resistance that I often find lacking in other tenor saxophone reeds. The cane is more consistent, and the attention to tip strength is a plus, as well. I have been and will be using the Alexander Reeds for Years to come."
Joshua Redman: "These Alexander NYs seem to have it all: power and warmth, definition and flexibility, consistency and longevity. They're some of the best reeds I've ever tried."
Seamus Blake: "The new NY's have the best tone and feel in a reed that i have been able to find. They are not too dark and not too bright and have a perfect resistance. They are easy to play from the lowest notes to the highest altissimo. In my opinion they are the most balanced "singing" reeds on the market today."
Harry Sokal: "When Tom Alexander told me about the new Alexander N.Y. Cut for Tenor I first was skeptical about getting better reeds than Superial or the D.C. Cut. After finding the right strength for me I became addicted and could not get away from the new Alexander N.Y. cut. It is unbelievable how good the response is, how easy they play and yet still maintain their strength and durability! This new reed has definitely developed my playing to a new level! Almost every reed is the right one for me - hard to make a selection between different reeds out of a box because all play great!. All the reeds of a box are so well selected - same strength - same characteristics: Low End - Top End - Resonance - Intonation - cane quality ....power....and after breaking in?- I cant find words!