Légère reeds are made from polypropylene, which is approved by the FDA for use in direct food contact applications, so our reeds are completely safe to use. Recently, there has been concern expressed in the media about a chemical compound called Bisphenol-A (BPA) which is used to make some plastics. Polypropylene does not contain BPA. Those expressing concern about BPA in baby bottles often suggest polypropylene as a safe alternative.
We process our polymer in a special way that lines up the molecules themselves in order to precisely match the stiffness and density of moist cane. We do not add glass fibres or any chemicals. Some characteristics of our material:
It doesn't have to be preconditioned before playing.
It does not absorb water
It is completely non-toxic
It can be sanitized
It is extremely tough and it will last a long, long, time.
Of course, the best thing about our material is its sound. Even with all of the advantages of a synthetic, you wouldn't spot our reeds on the stage at the Berlin Philharmonic Orchestra if the sound wasn't wonderful.
The sound of a woodwind reed is generated when the reed vibrates, opening and closing the mouthpiece hundreds or thousands of times per second. The reed must be both stiff and light in order to do this. Reed cane (Arundo Donax) has a combination of stiffness and low weight that difficult to match in a synthetic material. Most plastics are not stiff enough and too heavy, and the carbon and glass fiber composites used in golf club shafts are stiff enough, but generally too heavy. A heavy reed behaves like a diving board with a heavy person on the end: it vibrates at a low natural frequency.
At Légère we use our own special plastic formulation that has properties similar to those of cane in the playing condition, i.e. slightly wet.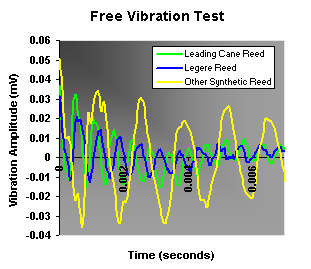 The graph above illustrates this point with a comparison between one of our reeds, a leading cane read, and another brand of synthetic reed. For this experiment, the reeds were all mounted on a mouthpiece with a standard ligature, and a microphone was mounted in the end of mouthpiece. The reeds were plucked and allowed to freely vibrate at their natural resonant frequency. The signal from the microphone was recorded with a digital oscilloscope, and is shown above.
The Légère reed had a resonant frequency and overall response very close to that of the cane. The other synthetic was too heavy, and vibrated much slower. You would be able to tell the difference if you played these reeds! The innovation of the Légère reed is protected by U.S. Patent # 6,087,571. Other Patents pending.